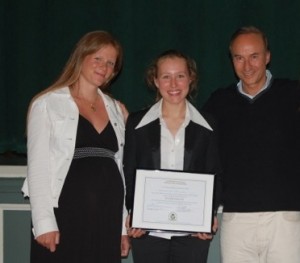 I'm happy and lucky to announce that I was awarded First Place for the Freidheim 2013 Business Plan Competition
I created Stretcho Games as part of the Entrepreneur's Club at Notre Dame High School of Manhattan. As the story goes, this yearly program for Juniors began last October and ended with suspense last Thursday evening on May 16th with a Business Plan Competition among 18 girls in the club. Now in its 3rd year, this program is sponsored by Stephen and Amandine Freidheim and their Freidheim Foundation.
On Thursday afternoon, Entrepreneur Club contestants pitched our respective business plans and demonstrated our prototype products to the Freidheims and a group of several judges they brought with them. It was like the television show Shark Tank! Among many great presentations and innovative product demonstrations given by my classmates in two elimination rounds, I'm happy and lucky to announce that I was awarded First Place and won the "Friedheim Award 2013 – Business Plan Competition" with the Stretcho Games product and business plan.
A big "thank you" goes out to the Freidheims (pictured with me above) and their foundation, along with recognition to my instructors and network of family and friends who supported and collaborated with me on this venture.