After an educational meeting about trademark law in mid-town and checking out a big retailer in Times Square, my first "sales call" of sorts for Stretcho Games was at a children's toy store in Tribeca, called Balloon Saloon. It's a famous place in the neighborhood to buy toys, gifts, and of course balloons. I live close by but I do not know the owner, but have read about her on the Balloon Saloon website. She has a very interesting entrepreneurial story of her own.
I had unsuccessfully tried to reach out Balloon Saloon via Twitter (see the picture of the tweet)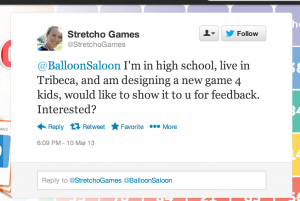 last March, so I showed up in person. I went into the store, which was very busy, and asked to meet the owner, Sharon Hershkowtz-Levy. She found the Stretcho Games product to be "very interesting" and gave a big "thumbs up" and strongly encouraged me to follow up with her store when Stretcho is ready to go to full production. Getting the enthusiastic thumbs up was very encouraging and the feedback was very helpful. She also gave me good advice on "pricing psychology" as well as improving the imagery on the prototype boxes so the purchaser has a better sense of what's inside the box (the mat, flashcards). Similarly, I also think the homepage of this website could also be improved to show the actual product better and someday I can add better and more polished product demo videos on the homepage that would be much better than what I have now for the prototypes.